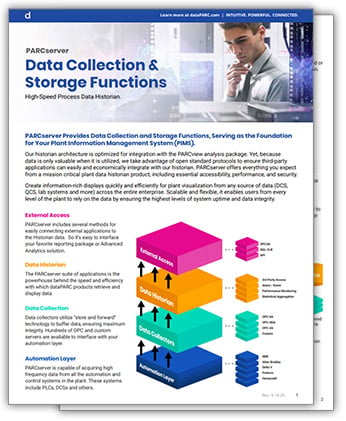 Featuring:
External Access - PARCserver includes several methods for easily connecting external applications to the Historian data. So it's easy to interface your favorite reporting package or Advanced Analytics solution.
Data Collection - Data collectors utilize "store and forward" technology to buffer data, ensuring maximum integrity. Hundreds of OPC and custom servers are available to interface with your automation layer.
Automation Layer - PARCserver is capable of acquiring high frequency data from all the automation and control systems in the plant. These systems include PLCs, DCSs and others.
Data Historian - The PARCserver suite of applications is the powerhouse behind the speed and efficiency with which dataPARC products retrieve and display data.